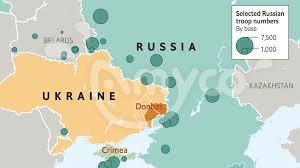 Since Russia sent troops to Ukraine on February 24, the global seafood industry situation has been constantly changing. Russia's position in the global seafood trade market and its strategy of increasing exports through value-added processing have caused the global seafood industry to be affected.
World energy and food markets are in turmoil, with the European Union, the United States and others imposing a wave of sanctions on Russia, a major producer of natural gas and wheat. Supply chain bottlenecks caused by the COVID-19 pandemic are expected to be exacerbated by the conflict. Sea freight rates could grow to $30,000 (26,900 euros) per container, while air freight could cost more, said Glenn Koepke, managing director of supply chain consultancy FourKites. "We're going to see a surge in prices for ocean and air freight," Kopke told The New York Times.
Meanwhile, the removal of some Russian banks from the Society for Worldwide Interbank Financial Telecommunication (SWIFT) system will further complicate Russia's economic outlook, as it will make it more difficult for international companies to do business in the region. "If Russia is disconnected from SWIFT, then we will not receive [foreign] currency, but buyers, first and foremost European countries, will not receive our goods - oil, gas, metals and other vital components, Nikolai Zhuravlev, a deputy spokesman for the upper house of the Russian parliament, told TASS.
Seafood is one of Russia's largest agricultural exports, according to trade data, and despite efforts to expand its domestic market, Russia's seafood industry remains heavily dependent on exports and faces an uncertain future if their access to international markets is limited.
Russia's seafood exports increase by 26% in 2021 to $5.85 billion (€5.02 billion). Russian fishery products are exported to 67 countries, an increase of 11.66% from 60 in 2020. South Korea has taken over Russia's top seafood export market as China restricted imports in 2021 due to concerns over COVID-19. South Korea will account for 37% of Russia's seafood exports by volume and 50% by value in 2021, while China will account for 21% of Russia's seafood exports by volume and 18% by value. But because of the conflict between Russia and Ukraine, on February 28, South Korea announced restrictions on trade with Russia.
In 2021, the Netherlands ranked third in terms of seafood imports to Russia, followed by Japan, Belarus, Ukraine and Nigeria. Some of the fastest growing markets for Russian seafood are European markets, such as France, whose purchases of Russian seafood increased by 112%; Norway, which imported 100% more Russian seafood in 2021 than the previous year; Italy, 2021 Purchases of Russian seafood increased by 152%; Poland, its Russian seafood purchases increased by 113%. Most of these markets are likely to impose severe trade restrictions on Russia due to Russia's military action against Ukraine.
In addition, crabs are the main part of Russia's seafood exports by value, and even if exports were flat at 75,000 tons, the value of Russian crab exports was still $2.5 billion (€2.3 billion), an increase of $1 billion (9 billion euros). But three major markets for Russian crabs — the U.S., the European Union and South Korea — are considering further sanctions on Russian goods, with some U.S. politicians explicitly calling for a ban on Russian seafood, while Russian seafood exports to China still face strict COVID-19 containment measures measure.